Google Ads, originally known as Google Adwords is Google's online pay per click advertising where advertisers produce adverts for their own list of keywords for users to click on. Using Google Ads can help you get to position 1 on the Google search engine with a day, without having to go through months of SEO work. Google Ads usually sit at the top of the SERPs (search engine results page). You can see an example below of where the paid for, shopping and organic listings all sit.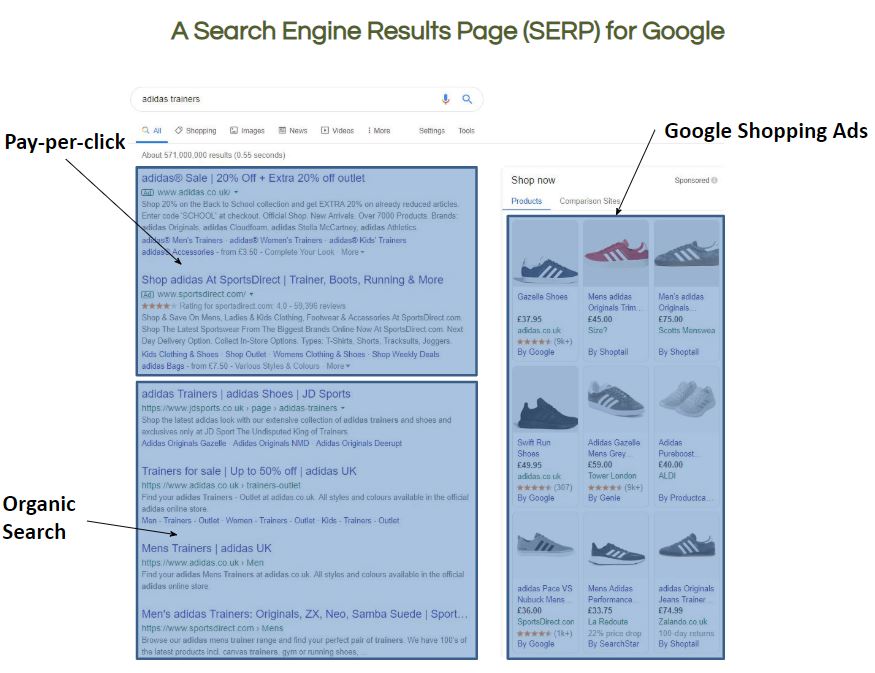 Search adverts for Google Ads are shown against keyword searches based on an auction model – the advertiser bids a maximum that they're prepared to pay. The priority with which Google shows adverts takes into account aspects such as the relevance of the landing page, the advert copy and the click through rate. The algorithms that determine adverts placing are always changing so it is necessary to stay on top of the updates. Google shopping adverts are usually based on a feed that is generated from the backend of the website and is then sent through an API to the Google Merchant Center. Once there the Merchant Center will use the feed to produce the shopping ads. Google will then show the product ads based on the keyword searches that the customer uses.
What are the challenges when using Google Ads search for eCommerce?
Increasingly complex to manage as scale and sophistication grows – bids can vary bids by device, repeat visits, location, gender, age, audience remarketing etc
Cost per clicks can rise significantly year on year (YOY)
Return on investment (ROI) can be hard to maintain as spend grows
Revenue increases YOY become harder and more dependent on other factors such as on page category merchandising, product pages and website customer journey.
What are the challenges when using Google Shopping for eCommerce?
The success of the product ads is closely tied to the quality of the data feed
Influencing the products chosen to be shown can be difficult due to Google's own search algorithm
There are usually 3 types of customer browsing the product adverts – low intent to buy, medium intent to buy and high intent to buy. The idea is to create different shopping campaigns based on the users different intention to buy. This is a very difficult process and involves a lot of work with all the various keyword searches the potential customer types in
Increasingly competitive (expensive) environment due to success and also false offering websites
The need to have a high impression share and be competitive is strong due to the ability to influence sales further down the buyer funnel
If you have any questions regarding Google Ads please don't hesitate to contact me.